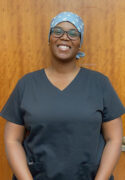 Desiree J. Conton
DDS
Dr. Desiree J. Conton was born in Peoria, Illinois to loving parents, Sonya and Paul. In her younger years, she enjoyed art, music, and playing with her younger brother and sister, Andrew and Carrie. She graduated from Peoria High School and moved to Mississippi to attend Jackson State University where she received her Bachelor of Science and Master of Science in Biology degrees. Throughout her undergraduate matriculation she was awarded several honors including Jackson State University Valedictorian/Salutatorian Scholarship and Jacksonian Award of Distinction. As a graduate student, she served in a leadership position as President of Jackson State University Graduate Student Association.
In 2017, Dr. Conton moved to Washington, DC to enroll at Howard University College of Dentistry (HUCD) to pursue her Doctor of Dental Surgery. While at Howard University, she kept herself busy by serving as President of the HUCD chapter of the American Association for Women Dentists and community service coordinator for the HUCD Class of 2021. Because of her involvement in community service in school, Dr. Conton decided to pursue residency in a public health dental clinic with NYU Langone Hospitals. She is grateful to have been selected as the second resident at La Familia's Dental Clinic. She likes it so much she's joined the staff!
In her free time, Dr. Conton enjoys painting, hiking, and cooking. More importantly, she enjoys exploring the city of Santa Fe and the opportunity to meet the patients, administration, and staff of the La Familia community.